Why Hire Us for Hardie
Hiring a contractor can be an exhausting, time-consuming, and frustrating process. How do you determine if a contractor knows what they are doing? Are they giving you a fair price? Will their work stand the test of time? Will you be happy with your decision after your project is complete?
Remodeling your home can be challenging. We designed our process to ensure that our homeowners are confident that they made the right decision before, during, and after their project is complete.
Precision #1 Contractors is uniquely able to provide unrivaled Hardie install capabilities to our customers. This provides our homeowners with peace of mind knowing that their project is installed properly, that the manufacturers requirements are met, and that their project will last 30+ years. Here is why you should hire Precision #1 for your Hardie project:
Details, Details, DETAILS!
Properly installing James Hardie Siding is a complex project. When the manufacturers specs are met, Hardie Siding can deliver a high level of performance for 40+ years. The product is backed by a 30 Year Non-Prorated Warranty. However, when Hardie is not installed correctly then it will begin to show signs of failure in 5 years and will likely need to be replaced in 7-10 years. To make things worse, when Hardie is installed without meeting the manufacturers requirements, the homeowners warranty is void.
Precision #1 exclusively focuses on James Hardie Siding replacement because we strive to be masters in our craft. We are unwilling to offer our homeowners anything less than the best possible service delivery. It is impossible to be the best at everything. We chose to be the best at James Hardie Siding installation.
When interviewing potential Hardie contractors, here is a small list of questions that you should ask. If a contractor mismanages any of these requirements it can lead to premature product failure and the voidance of your Hardie warranty.
Have they read Hardies published install guidelines?
When were the guidelines most recently updated?
What install practices did they change after the update?
Have they attended James Hardie's Side Master training?
What incorrect install practices lead to more premature product failure than any others in the Carolinas?
Why are Hardies required clearances important?
What is the required roofline clearance?
What is the required clearance from a deck or patio?
What is the required clearance under sheltered areas?
What is the required ground clearance for Hardie?
What is the International Building Codes required ground clearance?
What are Hardie's step flashing requirements? When are they required?
What are the kick out flashing requirements? When are they required?
What is drip edge flashing? When is it required?
What is valley flashing? When is it required?
Do they use the required joint flashing? What purpose does it serve?
What joint flashings are acceptable in Hardies warranty?
What is the required clearance between gutters and siding?
How far should roofing shingles extend in front of the fascia?
What can happen if you use the wrong joint flashing?
How do you treat horizontal breaks? What flashing is required?
What is the required horizontal break clearance? Do you caulk that clearance?
Do you leave space between two pieces of siding?
Do you caulk between two pieces of siding?
What special treatment do you take after cutting a piece Hardie?
Do you caulk between the trim and siding?
How much space do you leave between the trim and siding?
What do they use as a starter strip?
What are the required clearance gaps between the starter strips?
How do you properly touch-up Hardie with paint?
What paint do they use? Why do they use that paint?
What is a cementitious break?
Can metal be installed in contact with Hardie?
What will happen if metal does come in prolonged contact with Hardie?
What is a Weather cut? Why is it important? Where would you use one?
When would you install a block? How do you install a block? Why would you?
What is the minimum area where a block is required?
Will they be using the required underlayment? Why is it important?
Which underlayments are acceptable? Which underlayments our banned from Hardies specs?
What is special about Hardie Wrap?
Do you need to make any accommodations when transitioning from the first floor to the second floor?
Do they miter their trim and/or siding corners? How do they ensure a tight fit?
Which caulk do they use? Why do they use it?
Is it color matched to Hardies product lines?
How do they determine their nailing pattern?
How do they determine siding pattern?
What are the fastener requirements?
How deep into studs do the fasteners need to be?
Can you install Hardie when it is wet?
Can you install Hardie in the cold?
Can you install Hardie year-round?
Can you install Hardie in the rain?
What does efflorescence mean?
How do you properly store Hardie?
What safety requirements does the contractor mandate on the job site?
What safety requirements are mandated by Hardie?
What safety requirements are mandated by the State of North Carolina?
What safety requirements are mandated by the Federal Government?
If something goes wrong, how do you contact Hardie for a warranty claim?
What does the warranty process look like?
How long does it take Hardie to process a warranty claim?
Not Every Contractor is Created Equally
It will shock you how many contractors, even those partnered with Hardie, will not know the answers to the above questions. If that does not surprise you then this will! Lets take a look at the critically acclaimed television show This Old House. The shows stated mission is to provide homeowners with Expert advice on home improvement, remodeling, gardening and decorating. Take a look at how they advise viewers to install Hardie:
In this 5 minute video we counted 7 mistakes and inaccuracies, one of which WILL lead to premature product failure. Give us a call, we are happy to chat about it.
Certified Installers
Quality of craftsmanship is one of the biggest drivers in determining your level of satisfaction. Experienced and educated installers are tremendously impactful to both how the final product will look and perform over time.
All of our installers and project managers are Certified Siding Professionals through Precision #1 Contractors. Additionally, every individual who will be working on your home has completed the James Hardie Side Master training program.
Just like Precision #1 Contractors, our installers exclusively specialize in James Hardie Fiber-Cement replacement. Would you hire your dentist to remove your appendix? Why not? They're a doctor. The reason that you would not hire your dentist is because he or she does not specialize in that particular field of medicine. If you want to replace your siding with Hardie, why would you hire a vinyl siding or roofing contractor? We wouldn't either.
Why James Hardie Siding?
Check Out This Time-lapse of a Hardie Home
Why Is Hardie The Superior Siding Choice?
Before we give you answers, let's start off with a question: When it comes to the siding, what is most important to you? Most homeowners would answer with some versions of the following:
"I want my siding to last a long time and perform well."
"I don't want to spend a lot of time, energy, and money maintaining my siding."
"I want my home to look beautiful again." Or "I want to be proud of how my home looks."
"I want a warranty that protects my investment provided by a manufacturer who stands behind their product."
"I want to make an investment that raises the value of my home."
We agree. Generally speaking, there are five things that homeowners care about when it comes to siding.
1. Durability
2. Low maintenance
3. Design
4. Warranty
5. Return on investment
James Hardie offers the best siding in the industry because they continually improve their materials. This enables Hardie to deliver the best product possible to homeowners. They spend $22 million a year on research and development to optimize their existing materials, create new products, and to continue to test every siding on the market.
Check out the below product comparison of the most popular siding options in the Carolinas today: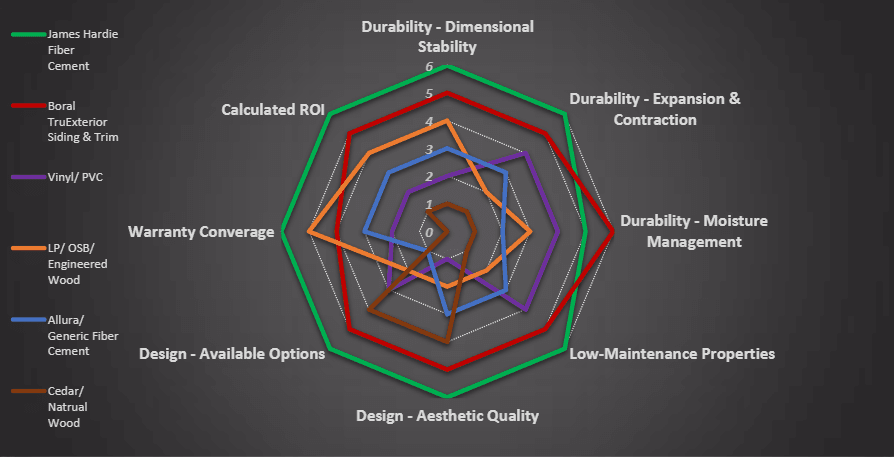 Why Hardie – Durability
Siding durability refers to the lifetime of a product and how it will perform during that lifetime. The biggest challenge that your home's exterior faces is harsh weather and environmental forces. If a siding is to be durable, then it needs to ward off the many perils of Mother Nature. James Hardie siding is scientifically formulated to do just that. This provides homeowners with a siding that is able to provide enduring beauty for decades.
Engineered for Climate
Hardiplank is the only siding in the world that is engineered for climate. What does that mean? It means that the manufacturer customizes their material for the environment in which it is being installed. In other words, the Hardie that you get in North Dakota is not the Hardie that you get in North Carolina. Why? Because the climatic conditions are completely different.
James Hardie segmented the country into 10 unique climatic zones. These regional zones face similar weather patterns and temperature swings. The Carolinas receive Hardie's 'HZ5' product line.
HZ5 is scientifically engineered to withstand what Carolinians experience throughout the year. Humidity, blistering heat, and sometimes freezing temperatures are no match for the superior strength of James Hardie.
Resistant to the Elements
Sun/UV Exposure – Did you know that UV exposure can literally melt vinyl siding? Also, sunlight causes the paint finish of all other siding types to fade significantly faster than Hardie. Use the slider to see for yourself.
Water – Water is the arch-nemesis of siding. It's a powerful element. After all, it created the Grand Canyon. Hardie does not expand, contract, or deteriorate as a result of prolonged exposure to moisture.
Pests – Hardie is resistant to pests of any kind. Bugs & termites won't eat it and woodpeckers won't peck it. They don't call them Cement Peckers for a reason!
Fire – Unlike wood or vinyl, Hardie is non-combustible. Whether it's protecting your family from the spread of fire or protecting yourself from leaving the grill too close to the house, Hardie offers superior performance.
Time – No siding on the market maintains its dimensional stability or aesthetic character longer than Hardie. Choose a siding that offers maintains enduring beauty for years to come.
Freeze/Thaw – As they say, Winter is Coming. Freeze/Thaw cycles cause other fiber cements to crack, split, and disintegrate. Unlike the others, Hardie is 100% Portland Cement and uses proprietary ingredients that withstand the harsh winter weather.
Why Hardie – Low Maintanence
Get The Beauty of Cedar Without The Maintenance of Wood
The problem:
Let's dream for a minute.
You hire a contractor to replace your current siding with a generic fiber cement. Because their material is not prefinished, the contractor pays a painter to paint the siding after it's installed.
Fast forward five years.
You walk outside to get your mail and you realize that your siding does not look as good as it did the day it was installed. Who do you call? Most likely, the contractor. The contractor comes to your house and agrees with you. Who does the contractor tell you to call? Most likely, the siding manufacturer. The siding manufacturer comes to your home (good luck) and says "No, no, no. It's not the siding. The siding is great. The paint is failing. Call the paint manufacturer." The paint manufacturer stops by your house and tells you "No, no, no. It's not the paint. The paint is great. It's the way the paint was applied. Call the contractor." You call the contractor again to get the phone number for the painter. Guess what you find out after you call the painter? They are no longer in business!
While this sounds eerily similar to the plot of your favorite horror film, we have seen this story play out with homeowners entirely too often during our years in the industry. You may be thinking to yourself, "There must be a better way." There is!
The solution: Hardie's Color Plus Technology
James Hardie offers factory finished materials that provides homeowners with two primary benefits.
Single source warranty – If anything were to happen to your siding, there is one neck to strangle. Hardie offers a streamline warranty process designed to protect the investment of homeowners.
Superior paint finish – You would not want to paint your car in the driveway. Why would you paint your siding once it's already on the wall?
Here's how it works:
1. Hardie's factories set the perfect conditions for paint adhesion. No dust, no dirt, no wind and ideal humidity levels.
2. After the environment is perfect, they manufacture the fiber cement.
3. Time to paint! Two coats of primer are applied to the siding. The primer is specifically formulated for fiber cement adhesion. You can't buy this primer on the market.
4. Next, three coats of paint are applied. The paint is specifically formulated for both adhesion to the primer and to fiber cement. You can't buy this paint on the market.
5. Now we have painted siding. Time to supercharge the finish! They subject the material to a poly-annealing process, in which the siding is heated to 250°. The color is literally baked into the board!
The final product is the lowest maintenance siding in the world. Color plus comes with a 15 year warranty and it lasts around 20 years. For comparison, cedar siding needs to be repainted every 5 to 8 years, generic fiber cement needs to be repainted every 6 to 9 years, and primed Hardie needs to be repainted every 10 to 12 years.
Re-siding with Hardie allows you to spend less time maintaining your siding and more time enjoying its enduring beauty.
Why Hardie – Design
See What Design Experts Think About Hardie
Endless Design Capabilities
James Hardie produces more siding options than any other manufacturer in the world. They bolster a full complement of product lines that, when combined, provide the best complete exterior solution in the Carolinas. This means that homeowners do not need to mix and match products, leading to potential color differences and varying maintenance & product life cycles.
The picture to the right explains the potential dangers of mixing materials. This house has Hardieplank with wood trim. After years of rain and exposure to the elements, The Hardie remains unscathed. However, the wood trim shows severe signs of deterioration and mildew. It sticks out like a sore thumb! A 100% Hardie Exterior prevents what you see in the image to the right by providing complete coverage to your home's exterior, not just the siding.
Complimentary Product Lines

Traditional lap/clap board siding. This is the Carolina's most popular product line.

Compliments your siding on the corners, windows and other areas of your home. Features blind-nail installation and a variety of color options.

Mimics the look and feel of real cedar shingles without the performance drawbacks of a wood product.

Versatile 4 x 8 and 4 x 10 sheets of fiber cement. Most commonly used in Board & Batten and Panel & Channel designs.

No need to pair you beautiful siding with cheap aluminum or vinyl soffits. Hardie has a solution.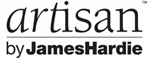 Hardie's luxurious designer brand of siding. Enjoy striking aesthetics that will set your home apart from any other.
Why Hardie – Warranty
The #1 cause of HardiePlank failure and the voidance of Hardie's warranty in the Carolina's is improper installation. A home will not qualify for coverage if their contractor did not abide by EVERY install guideline set forth by the manufacturer. Hiring a skilled contractor is critical to Hardie's success on your home.
Warranty coverage provides protection against product failure and assurance in a manufacturers belief that they provide consumers with quality products. A comprehensive warranty shields homeowners against product failure. It also ensures the homeowner that their investment is insured by the manufacturer.
We have good news! Hardie supplies our homeowners with the best siding warranty in the building products industry.
Longevity
30 Years for the material and 15 years for the Color-Plus paint finish. Hardie offers a REAL warranty, unlike the Lifetime Warranties that other manufacturers promote.
Non-Prorated
Unlike virtually every other manufacturer, Hardie's warranty offers coverage that does not decrease over time. Read the fine print! Vinyl warranties depreciate by an average of 2% each year.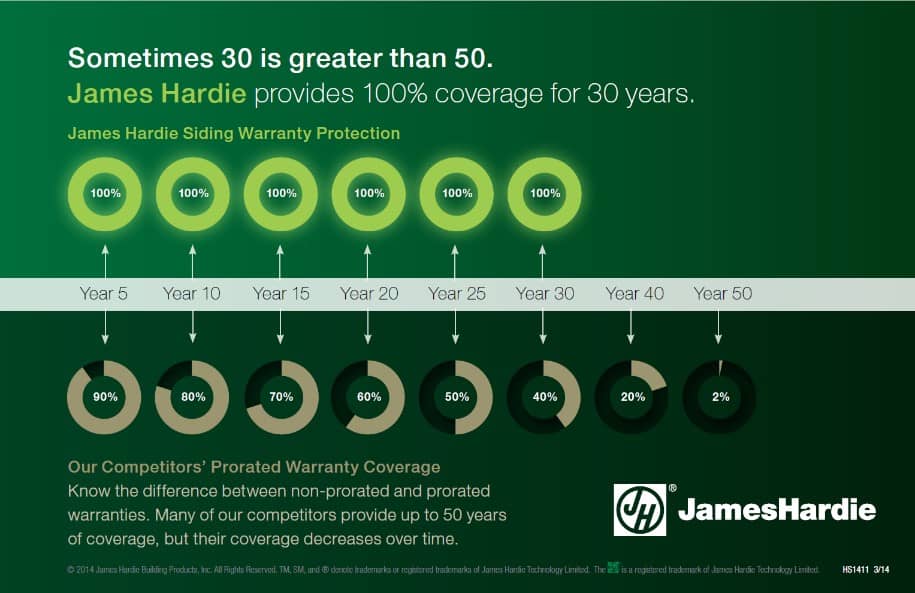 Transferable
Increase your homes resale value by transferring your Hardie warranty to the next homeowner.
No Registration Needed
It seems like a cheap trick to disqualify a homeowner from a warranty if they did not fill out a piece of paper within 30-90 days. Hardie will grant warranty coverage to any homeowner that hired a contractor who properly installed the material.
2x Coverage
Hardie's coverage is worth up to twice the original value of the material. In other words, if your siding material cost was $10,000 then Hardie will pay up to $20,000. This will help sooth labor costs if your material prematurely fails.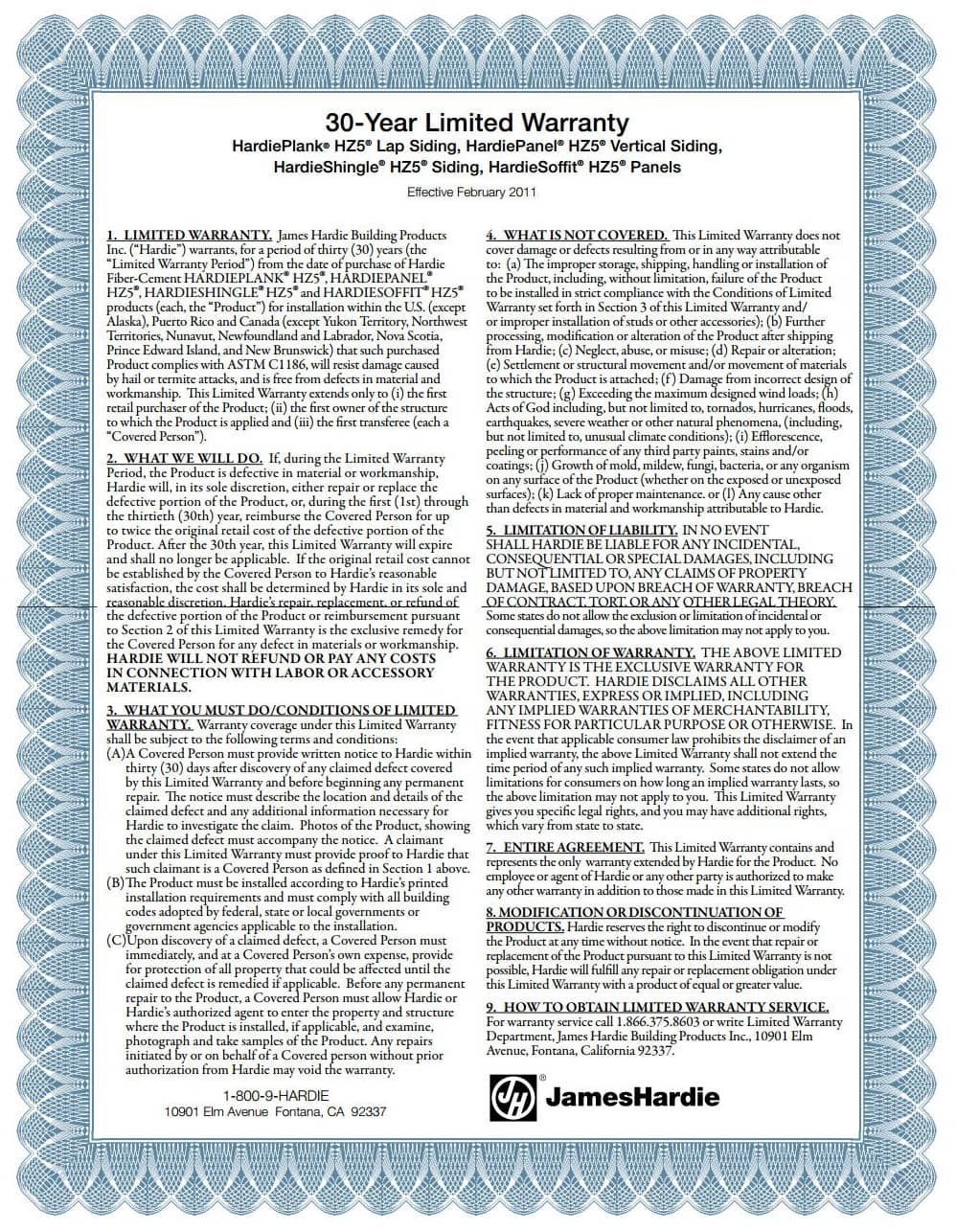 Complete Coverage
Hardie warrants against Normal Weathering, hail damage, prolonged exposure to the elements and every other condition that your siding will face. Believe it or not, most siding manufacturers do not cover Normal Weathering. Normal Weathering? What else do they believe that they siding is going to be exposed to! Here are some examples:
Mastic (Vinyl Siding)

LP Smart Side (Engineered Wood Siding)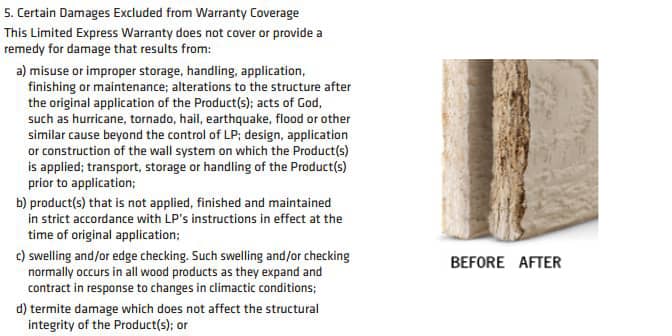 Why Hardie – Return on Investment
Elevate the Value of your Home with Hardie
Replacing your current siding with James Hardie delivers the best 'bang for the buck' of any remodeling project that you can invest in.
Dollar for dollar, nothing will raise your home's value more than properly installed Hardie.
Remodeling magazine is the industry leader for assessing the Return on Investment that homeowners should anticipate upon completion of a variety of remodeling project types. Their goal is to provide consumers with data-driven estimates of how their home's sale price or value will be effected by home improvement investments. In other words, which home improvement projects provide the best 'bang for the buck'?
Every year the magazine releases updated figures as part of their annual 'Cost vs. Value Report'. Calculations are provided on a national and regional scale.
For 12 consecutive years in a row, replacing your vinyl siding with Fiber Cement siding (James Hardie) was determined to be the #1 Return on Investment of ANY exterior remodeling project. From an ROI perspective, there is literally nothing that you can do to amplify your home's value more than residing with James Hardie.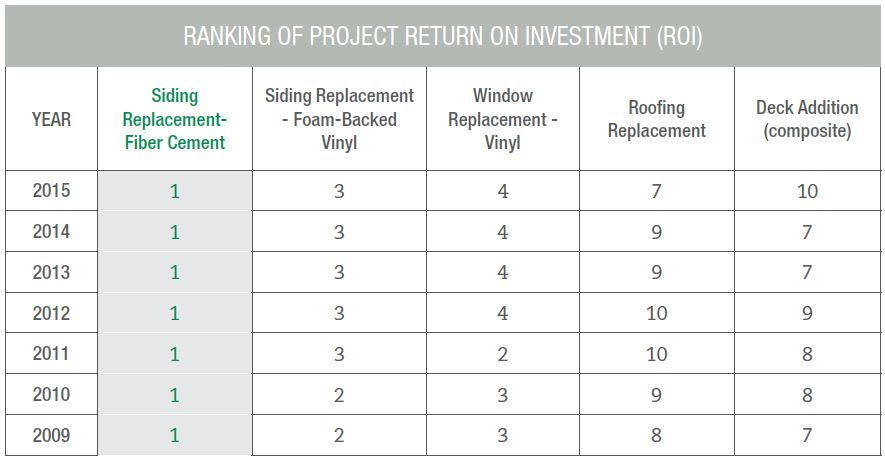 Fiber cement siding replacement is the highest percentage of cost recouped for projects in the 'upscale' category. 2015 Hanley Wood, LLC. Excerpted with permission. Complete data from the Remodeling 2014-2015 Cost vs. Value Report is available at www.costvsvalue.com
Here is another perspective. Who is better at accessing the risk (or failure rate) of a siding product than multi-billion dollar insurance companies? Hardie is the most durable product on the market. Insurance companies have to pay out considerably less in claims to repair siding damage when Hardie is one the home. Because of this virtually every insurance company will significantly reduce a homeowner's monthly insurance payment as a result of replacing vinyl or wood siding with Hardie.
4P invented a (patent pending) test for determining siding quality. We call it the 'Blind Architect' test. If you are undecided on which siding product performs best, we encourage homeowners to grab a copy of the yellow pages, flip to the architects section, and select a random name. Call that architect and ask them what they think when it comes to siding options. There is a lot of misinformation in the market place for which siding provides the best durability, low maintenance, and design. Architects are the pros. Why not ask them?
3rd Party Endorsements
It means one thing if we tell you that Hardie is the best option on the market. It means another thing if industry experts agree. See what the industry pros think about Hardie.
James Hardie: America's #1 Brand of Siding
What is James Hardie Siding?
Discovery's "How It's Made" – James Hardie Edition!
James Hardie Siding vs. Other Fiber Cements

Superior Paint Adhesion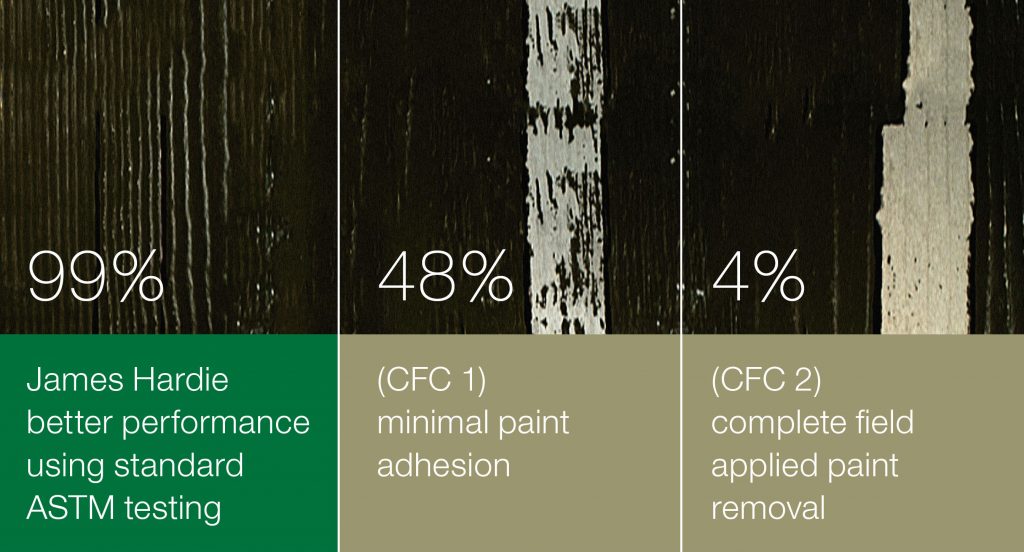 Ability to Withstand Freezing & Thawing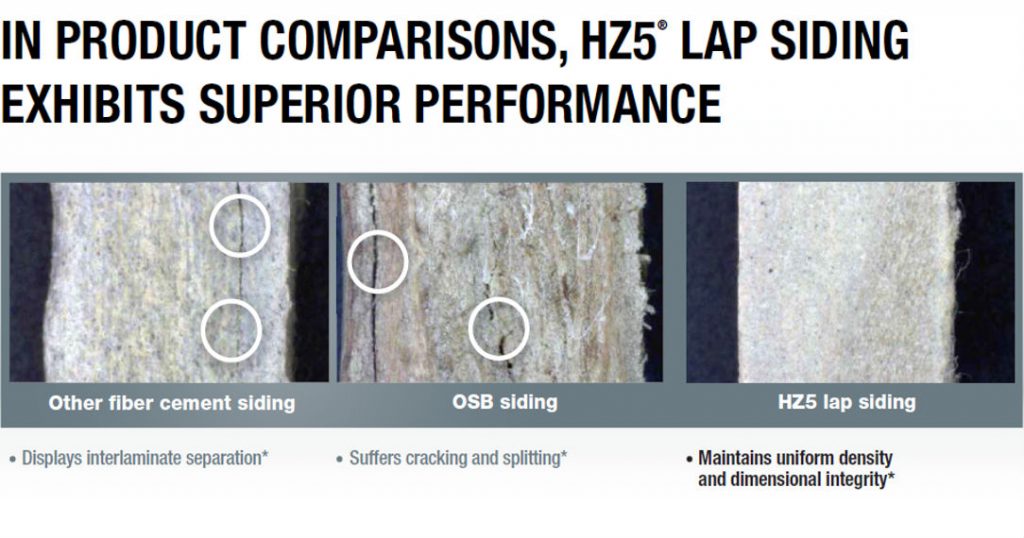 Superior Water Resistance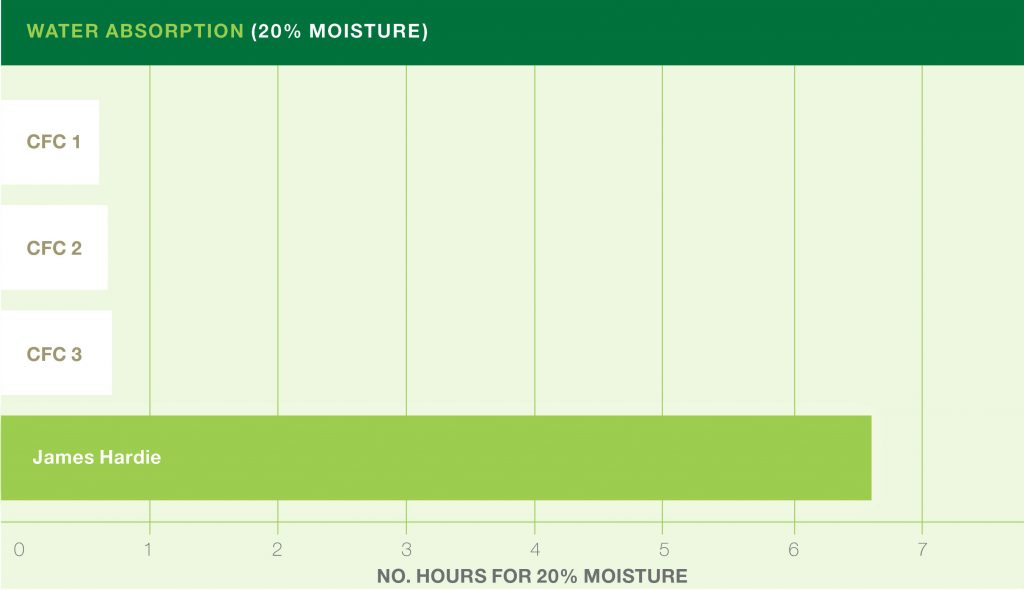 Don't be fooled by competitors!
CertainTeed Fiber Cement Siding Class Action Settlement
James Hardie vs. Vinyl
Low-E Windows and Melting Vinyl Siding: A Homeowner Story
James Hardie vs. LP (OSB Siding) & Cedar
James Hardie Advantages vs Engineered Wood Siding